Carlton Learning Precinct
Continuing a long history of connecting with community, Carlton Primary is a partner in the 'Carlton Learning Precinct'. The Carlton Learning Precinct has been many years in the making, and combines the newly renovated Carlton Primary, with an Early Learning Centre run by Gowrie Victoria, Family Services from City of Melbourne, and additional support and from Our Place. The aim is to support all families and children, with a focus on Education and Health to support success for all.
The school hosts community meetings and groups, as well as parent education, parenting groups, sporting activities, and other activities in dedicated rooms, while the City of Melbourne run space hosts playgroups, maternal and child health nurses, and family support workers.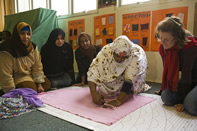 Contact us to access our programs and facilities.